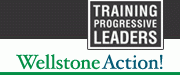 Dot.Org Award
03.26.10
The Minnesota Council of Nonprofits and MAP for Nonprofits have honored one of our favorite clients, Wellstone Action, for the excellent use of technology. They've just won the 2010 Dot.Org for E-Organizing and we're tickled pink to see them continuing to grow and achieve results long after the site's May 2008 launch.
Wellstone Action! provides training and leadership development to win change in the progressive tradition of Paul and Sheila Wellstone. Wellstone Action uses social media and other Web tools to offer rapid-response commentaries on significant events in the progressive movement, and takes information one step further by using maps and other data visualization tools to tell a story about data.
Gorton Studios designed and developed the Wellstone Action site at www.wellstone.org. There is also an extensive case study written about the process behind building the site in a Drupal.org Case Study of the project.