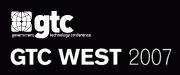 Got CSS?
05.03.07
Drew Gorton will presenting on CSS at the upcoming 2007 Government Technology Conference. On Monday, May 20th he'll be covering CSS basics and on Tuesday May 21st, he'll be covering CSS Implementation Strategies for the California Web Standards.
We're really proud to be presenting and are very happy to be working with our friends at XMaLpha. Drew's also quite excited to see the keynote address by industry legend and Apple Computer co-founder Steve Wozniak.
If you're planning on attending, stop by and say 'Hi'!
Also, note that presentation notes, handouts and updates are posted online