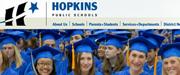 Award of Excellence
07.16.09
Hopkins Public Schools' new website received a Northern Lights Award of Excellence from the Minnesota Association of Government Communicators. The Award of Excellence is given to communication initiatives of the highest quality that met or exceeded their intended results. The website was also one of eight entries nominated by the MAGC Board of Directors for Best of Show honors.
Hopkins' new website was unveiled in December 2008, after months of planning and work.
"Our website is informative, visually appealing, and easy to update," said Eileen Harvala. "It is a great launching point for our continuing efforts to inform, connect, and engage all of our community members into what's happening in Hopkins Public Schools and, more importantly, how much we value their vital roles in the success of all that we do for learners."
"Our old website was static in content and inconsistent in design and navigation," said Sid Voss. "The new site is dynamic and lively, with consistent branding, design, and navigation. The site represents the Hopkins Public Schools' commitment to excellence.